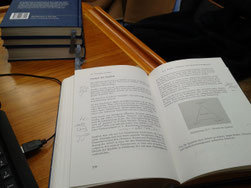 darin, die die Arbeit an der zweiten Auflage der Buchreihe "Elche fangen" so spannend machen. Ihre Geschichten: Wie sie gelebt und gearbeitet haben, in welchem zeitlichen Kontext und mit wem sie zusammengearbeitet haben. Was sie gemacht haben. Die Quellenarbeit zeigt wieder einmal: vieles ist "alt". Wissenschaftlerinnen und Wissenschaftler und Menschen, die einfach "machen", beispielsweise ein Unternehmen, haben schon vor mehreren Jahrzehnten und auch Jahrhunderten das entwickelt, herausgefunden und darüber geschrieben und gesprochen, was wir heute oftmals als "neu" unterbreitet erhalten.
Wer ist mir diese Woche - digital - begegnet?
Theo Wehner, er lebt noch: Organisationspsychologe - Thema: Sicherheitskultur

Mary Parker Follet (1868 - 1933): eine _der_ Begründerinnen der Organisationsentwicklung und insbesondere des Themas Leadership und auch des Themas Zusammenarbeit.

Samuel Beckett (1906-1989), Schriftsteller: Ever tried. Ever failed. No matter. Try again. Fail again. Fail better. (Westward Ho, 1983)

Vilfrede Pareto (1848-1923), Ingenieur, Ökonom, Soziologe: 20/80 (klingelt es?)

Robert Baden-Powell (1857-1941): Scouts - Pfadfinder

David Sackett (1934-2015) &  John Armstrong Muir Gray (lebt noch): Evidence-based Medicine 

John Kotter (* 1947): Change 
und noch einige andere aus Organisationsentwicklung / Leadership / together.
Und viele Menschen, die sich mit Computer & Co beschäftigen, beispielsweise: John McCarthy (artificial intelligence), Larry Tesler (human-computer interaction), Ken Schwaber & Jeff Sutherland (scrum) --  und heute ganz wunderbar: Fred Brooks (the mythical man-month)
Sein Buch ist online, dank einer Stiftung:
Brooks FP. The Mythical Man-month: Essays on Software Engineering. Addison-Wesley 1975. -- Digitized by the Internet Archive in 2013 with funding from Gordon Bell: https://web.eecs.umich.edu/~weimerw/2018-481/readings/mythical-man-month.pdf (18 August 2023) [further editions: 1983 and 1995]
Enjoy! 
Christa Weßel - Freitag, 18 August 2023
Blogrubrik Schreiben & Publizieren