Why executives don't need a screwdriver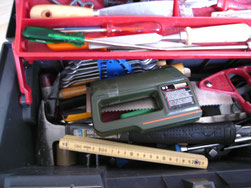 and why electronical tools are not prerequisite for good communication in projects and other settings that an executive faces day to day.

A few days ago I was very astonished to see that experienced IT-project managers were looking for a checklist, that would enable them to perform good communication with irritating team members. The final goal - as I conceived it - was, to develop an application that would guide them through such challenges.

The starting example was how they could deal with the challenge that certain team members tend to dispute decisions again and again.

I couldn't believe it. Experienced project managers seemed to know only a little about the basics of group dynamics, communication, moderation, team development and conflict prevention and management. They scratch just the surface. Of course they heard about the five phases of group dynamics and they know how to prepare and document during a team meeting. But here the distress starts: still many project managers and other executives produce a big amount of "death by bullet points" in huge powerpoint presentations. No openness for taking the time to let a team grow, to identify common values, goals and rules by the team members themselves and being a team manager who guides and accompanies the group through the process appropriate to the company's and client's policies.

As systemic approaches like organizational learning an appreciative inquiry teach us: there is not a single person or a professional group to blame.
How are project managers trained?
… during their studies and their continued education?

With a technical background like computer sciences, physics or math you have to get your education in leadership beside and after your studies.

With an economic background like business administration or business informatics it depends on your selections and on the openness of the college or university for topics beside the hard financial and technical stuff.

So, in this case you have also to get your education in group dynamics, communication, moderation, team development and conflict prevention and management during your professional career.

Anyway, these topics need continued reflexion and updates alone and with others.
The real "screwdriver"
A tool can not compensate and replace a profound and continued education and training in - to keep it short - communication.

How to get it, if it did not fit into the curricula of your study courses and not in your continued education so far? The latter for instance because you were to busy with certifications by mainstream associations. Several associations are very sophisticated in creating a market in which companies and customers are firm believers in the must of such certificates for instance on project management or agile methods, the more the better.

When I learned a few days ago, that the project managers seemed not to have more than just superficial knowledge about and experience in communication, I started to ask them a few questions. Their answers corroborated my first impression during this evening. Only a small amount of basic knowledge. The good news. Some eyes were hungry. They want to learn.

The bad news: short inputs by a coach or teacher can not replace reading books, reflecting on them alone and with others and the training in workshops.

The best news: there is a huge amount of excellent literature - indeed books! - on group dynamics, communication, moderation, team development and conflict prevention and management. And as Annie Cunningham an Keith Stanovich put it in their paper on "What does reading for the mind?" 2001, p 138:
Avid readers tend to be different from nonreaders on a wide variety of cognitive skills, behavioral habits, and background variables.

You can reflect on books with similar minded peers during structured and well organized regularly dialogues, for instance once a month for two hours in the early evening and if you like with a following dinner (it's not a must).

You can train your knowledge and transfer it into skills and even art in workshops and / or with a coach, in short: use it (Dewey 1910 and 1916).
Your personal curriculum on communication
Thus it's up to you. If you really want to communicate with staff, colleagues, superiors, customers, other companies and in public, create your personal curriculum.

Start a calendar. Include regular times for reading, real reading and perception. Look for peers to work on these topics. Overthink with a mentor or coach or a good friend which workshops and courses will further enhance your skills in group dynamics, communication, moderation, team development and conflict prevention and management.

Every project has a start. Plan milestones, but not a finish. Communication is a very fascinating topic. Not only with humans but also with nature and increasingly with artificial intelligence. If you got good basics then you can use computers and deal with "I, Robot".


A personal hitlist of literature
2017 I collected  some of my favorites in my book PEOPLE - Let's go to the limit … let's talk (currently only in German: MENSCHEN …). You can find the book's list of references on Resources / serial "Elche fangen …" / "Menschen …" I hope you will get some inspiration from this list for your personal curriculum on communication.

plus
Cunningham AE, Stanovich KE. What Reading Does for the Mind. Journal of Direct Instruction 2001 (1); 2: 137–149. Reprinted with permission from The American Federation of Teachers. American Educator, Vol. 22, No. 1–2, pp. 8–15. - http://mccleskeyms.typepad.com/files/what-reading-does-for-the-mind.pdf (accessed 18 Sep 2018)
Dewey J. Democracy and Education. (1st edition 1916). Radford, VA, Wilder Publications 2008.
Dewey J. How We Think How We Think. 1st edition 1910. Mineola, NY, Dover Publications 1997 (new edition).
Marder E. Living Science: The importance of remembering. eLife 2017;6:e30599. DOI: https://doi.org/10.7554/eLife.30599 (accessed 24 Aug 2017) [Blog 21 Jan 2018]
Proyas A. I, Robot. 20th Century Fox 2004.

btw: the Frankfurter Buchmesse #fbm18 will keep on hand a lot of inspiring talks, books and (electronical :o) devices for you (Blog 28 Aug 2018).

Christa Weßel - Tuesday, 18 September 2018

Blog sections higher education and organization development and social informatics

< Die TeXnik im Waschsalon    today   The Future of Jobs Report 2018 >