The book serial "Elche fangen" at Frankfurter Buchmesse 2018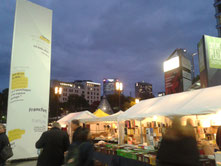 Good news. The Weidenborn Verlag will present my books on the international book fair in Frankfurt on Main from October 10th until 14th, 2018. Blogger Rudi Moos reports for the publishing house and I am very happy to tell the story right here.

Weidenborn Verlag was lucky to get a special offer for small and independent publishing houses and started its campaign yesterday. Since 2011 I have been visiting this exciting and inspiring book fair. In the beginning it was "just" a visit. Over the years it changed to the book author, self-publisher and recently also the publisher.

Changing the perspective
It will be an interesting experience to change the perspective, to talk as author and publisher with visitors from Germany and - I hope - from abroad. From Wednesday until Friday trade visitors such as publishers, authors, bloggers, book sellers, journalists and many more will attend the fair. On Saturday and Sunday private visitors have the opportunity to take part in many interesting events. Much happens not only on the fairgrounds but also at different locations in Frankfurt and the Rhine-Main-area.


#fbm18
A program for you
Weidenborn Verlag designed a program with topics for each day and we will be pleased to meet you at #fbm18: my colleague Rudi Moos, the publisher, the author, the designer and our trusted adviser (Rudi calls him "Berater unseres Vertrauens"): https://www.weidenbornverlag.de/english/

Each day has a special topic at 3 p.m.  
We: Using stories for advice … How moose and pathfinder got into books about organization development.
Th: Making books … Writing, making books and running a publishing house as a small team.
Fr: Toolboxes … Working and learning using 8+1 questions.
Sa: Metaphors, stories and such like … How does a science fiction film concern to projects?
Su: And after the moose? Eels in learning and beavers in social informatics.

I'm looking forward to meet you at hall 3.1 exhibition stand J19 on #fbm18

Christa Weßel - Tuesday, 28 August 2018

Blog section Writing and Publishing

< Eine "große" Thesis    today   … schreiben macht noch schlauer >