newsletter Winter 2019/2020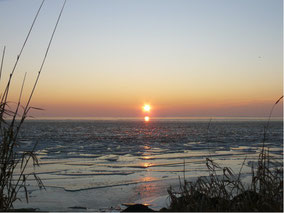 (find the English note below)

In zwei Tagen werden die Tage wieder länger, vielleicht auch für Sie ein besonderer Tag. Was war eigentlich im vergangenen Jahr und wie werden die kommenden Tage, Wochen, Monate und Jahre werden?

Mein persönliches berufliches "Highlight" war natürlich die Veröffentlichung des "Aals" (28 Okt 2019 About a book). Zum Druckermeister sagte ich beim Abholen der Autorenexemplare: "Da stecken, wie bei den Elchen, zwanzig Jahre drin." Es war auch jetzt wieder ein ganz besonderes Gefühl, das Buch zum ersten Mal in Händen zu halten.

Zu einem Kollegen meinte ich im Frühjahr: "Pläne für meine Pause in der Lehre? Nein. Ein Ziel, ja: den Aal fertigstellen. Und ansonsten werde ich sehen, was sich entwickelt." Es entwickelte sich ein sehr schöner Sommer, der in einen stürmischen Herbst überging. Wie stürmisch habe ich beim Verfassen des Herbst-Newsletters nicht geahnt. Auf See heißt es: Weg von Land, falls du nicht in einen Hafen einlaufen kannst, damit du Platz genug hast, den Sturm abzuwettern. Hat funktioniert, dank sehr guter Freunde, Kollegen und Geschäftspartner, auch im Verlag (Rudi Moos berichtet).

Solche Menschen wünsche ich Ihnen ebenfalls und wieder wie auch im vergangenen Jahr: alles Gute, Balance, ein aufmerksames Umgehen miteinander und der Umwelt, digitale Kompetenz, Werte jenseits von Euro und anderen Geldzahlungsmitteln, die Verwirklichung Ihrer Ziele, privat, sozial, politisch und beruflich, Gesundheit … Und wenn Ihnen noch Weiteres einfällt, gerne auch das.

Happy holidays and all the best for 2020
My thanks go to the friends, colleagues and business partners, who supported me in working on my book and in going through stormy weather in autumn after a wonderful summer. The wind and the sea are calmer now.

All the best to you, dear readers, students, colleagues, clients and the Weidenborn Verlag team. I wish you balance, attentive and appreciative handling of yourself, others and the environment, digital competence, values beyond Euros and other currencies, the realization of your private, social, political and professional goals, health … And if you come up with other ideas, just go for it.

Christa Weßel - Donnerstag, 19 Dezember 2019

Blog section newsletter archive

< A A L Buch erschienen   today   Good-bye Frankfurt >