in higher education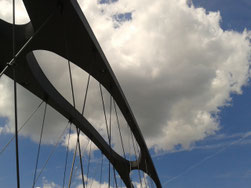 A teacher is a facilitator, mentor, guide (Weßel & Spreckelsen 2009). The design and the moderation of the learning process are her and his most important tasks. Students are enabled to learn competency-based (Jones et al. 2002). Bloom's revised taxonomy of learning, teaching and assessing is a useful tool for the alignment of the learning objectives with the seminar contents and the course assessment.

During the 1950ies Benjamin Bloom started to develop a "Taxonomy of Educational Objectives" that contained six levels of learning objectives and an alignment to students' tasks and assessment approaches (Bloom 1984). 2001 Lorin Anderson und David Krathwohl edited a revision, that put emphasis on the process and results of creation as the highest level of learning objectives. These levels I use to design seminars and workshop at institutions of higher education (universities and universities of applied sciences) and in open seminars of continued education (Learn Create Change).

In the following I add to the levels' description (Anderson / Krathwohl 2001) the tasks and exercises the students perform in relation to the levels, first in English and as I teach also in German a translation.

Learning levels and their realization
remember: recall facts and basic concepts - define, duplicate, list, memorize, repeat, state : quiz, dialogue, tests, written exams.
understand; explain ideas or concepts - classify, describe, explain, identify, locate, recognize, report, select, translate : talk, presentation, seminar paper.
apply: use information in new situations - execute, implement, solve, use, demonstrate, interpret, operate, schedule, sketch : practice.
analyse: draw connections among ideas - differentiate, organize, relate, compare, contrast, distinguish, examine experiment, question, test : case example.
evaluate: justify a stand or decision - appraise, argue, defend, judge, select, support, value, critique, weigh : case-based and problem-based learning with analysis, conclusion and reasoned decision.
create: produce new or original work - design, assemble, construct, conjecture, develop, formulate, author, investigate : software, art work, project reports, portfolio, seminar paper, thesis.
Of course the teacher has to give some input, for instance in dialogues and in short talks and lectures, that introduce the students to the topic.
German Translation
Lernziele in der revidierten Fassung von Bloom's Taxonomy und ihre Umsetzung
Erinnern (Remember): abrufen von Fakten und Basiskonzepten –  Quiz, Dialog, Testate, Klausuren.
Verstehen (Understand): Ideen und Konzepte erklären –  Vortrag, Präsentation, schriftliche Arbeiten.
Anwenden (Apply): Informationen in neuen Situationen anwenden – Übung.
Analysieren (Analyse): Verbindungen zwischen Ideen herstellen – Fallbeispiel.
Bewerten (Evaluate): einen Standpunkt oder eine Entscheidung begründen – einen eigenen oder anderen Fall reflektieren und begründete Schlüsse ziehen (Fall- und Problem-basiertes Lernen).
Erzeugen (Create): einen neues Produkt oder ein Originalwerk herstellen – Software, Kunstwerk, Projektberichte, Portfolio, Seminar- und Abschlussarbeiten.
Natürlich muss der Lehrende auch selbst "Input" geben, beispielsweise durch die Beantwortung von Fragen und in Impulsvorträgen, die in ein Thema einführen.
Thanks to Kevin who draw my attention to the revised taxonomy.
Christa Weßel - Saturday, 28 Jul 2018
References
Anderson LW, Krathwohl DR (eds). A taxonomy for learning, teaching, and assessing: a revision of Bloom's taxonomy of educational objectives. Complete ed. New York, Longman 2001.
Armstrong P. Bloom's Taxonomy (and the revised taxonomy). Center for Teaching, Vanderbuilt University, Nashville, Tenn. [cited 2018 Jul 24]. - https://cft.vanderbilt.edu/guides-sub-pages/blooms-taxonomy/
Bloom BS. Taxonomy of Educational Objectives. 2nd edition (1st 1956). Reading, MA, Addison Wesley 1984.
Jones EA, Voorhees RA, Paulson K. Defining and Assessing Learning: Exploring Competency-Based Initiatives. Washington, DC, National Center for Education Statistics (NCES) 2002.
Weßel C, Spreckelsen C. Continued Multidisciplinary Project-Based Learning - Implementation in Health Informatics. Methods Inf Med. 2009; 48 (6): 558-563. - Download via ...