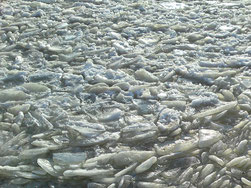 A video showing high professional diving with wonderful art performance and music - written, filmed and edited by the impressive visual artist Juuso Mettälä.


Fishing under Ice
Did you look?
What do you think: where and how are the divers moving?
Upside-down under the ice.
The bubbles seem to sink, but they are going to the surface.

And how is this possible?
High professional divers in an extreme environment walk upside-down "on" the ice.

The equipment.
Once I wore such an equipment, but never dived in such extreme circumstances.
Dry suit. two compressed air tanks, two respirators (diving regulators), thick gloves and shoes, high-end mask.
The artist and the crew
The artist is Juuso Mettälä : https://vimeo.com/juusom

The crew of "Fishing under Ice" and technical details:
Divers:
Fisherman: Eelis Rankka
Fisherman's friend: Tommi Salminen
Boy with the balloon: Jukka Pelttari

Camera and editing: Juuso Mettälä
Manuscript by Juuso Mettälä and Eelis Rankka

Safety divers: Esa Vuoppola and Juhana Heino

Music: Stefano Mocini: The end of the doubs

Couple of things about this video:
Camera I used was Sony HDR-SR11 with Amphibico HD Elite housing.
The Wheelbarrow was saved from the bottom of the lake and I have used it many times after that.
The rubber duck and the balloon are also home with me.
None of the divers got any permanent damage either.
And yes, we had a lot of fun making this video.

-Juuso
https://www.abso-fishing-lutely.com/fishing-under-ice-original/ (accessed 17 Mar 2019)
enjoy
Christa Weßel - Sunday, 17 Mar 2019
Further Readings