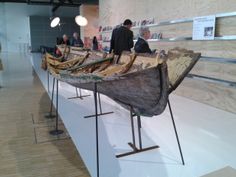 Everett Rogers coined the "diffusion of innovation". Changes start slowly and then gain velocity. The #dialogueinthecafe started today with "oh yes, when I was just 18 I was promoted on a management position. Small, but nevertheless leadership. And there were several moose on the road."

The evening at the Café Puzzles was fine. The next dialogue will take place in November:
Tuesday  19 Nov 2019 from 6 p.m. on
Café Puzzles, Berger Str. 253, 60385 Frankfurt am Main, Germany
  
During the day the #fbm19 started for the press and of course with the opening ceremony. After a remarkable opening press conference journalists and bloggers (the "press") were invited to the Norwegian pavillon. Norway is the guest of honour. A wonderful space with desks that are sculptures to explore books and more. My blogger colleague #RudiMoos reports and offers some photos: 15 Okt 2019 #fbm19 Eine noble Preisträgerin und ein Boot.

As Rudi and me are fond of the sea and sailing we both were impressed by the sculpture of Marianne Heske with the boat Ludwig Wittgenstein used during a summer in Norway where he wrote some of his remarkable works.

Also impressing was to see and hear Olga Tokarczuk, the Nobel Literature Laureate 2018. Rudi tells the story.

So now we try to get some sleep to be fit for the first day of #fbm19. If you take part either as exhibitor or as professional visitor: have fun and success.

Christa Weßel - Tuesday, 15 October 2019
post scriptum on Wednesday, 23 October 2019

The complete press conference
buchmesse #fbm19 15.10.2019. Eröffnungs-Pressekonferenz zur Frankfurter Buchmesse 2019. - https://www.youtube.com/watch?v=VfaiQuLQgxs&utm_source=newsletter&utm_medium=email&utm_campaign=September (acccessed 23 Oct 2019)
Blog sections writing & publishing (due to the fact that #catchthemoose took place on the evening before the first day of #fbm19) and organization development (due to the topics of #catchthemoose)