and my favourite place for lunch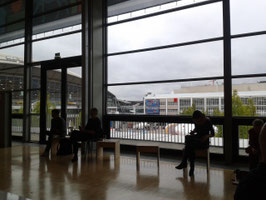 The guest of honour Norway created a wonderful pavillon. Blogger colleague Rudi Moos presents some fotos (15 Okt 2019 #fbm19 Eine noble Preisträgerin und ein Boot). Between business meetings I take the opportunity for an inspiring rest and to take part in the cultural events Norway offers. Yesterday (Wednesday) I could listen to the dialogue of Karl Ove Knausgard, author and publisher, and Juergen Boos, director of Frankfurter Buchmesse. In the afternoon the artist Marianne Heske talked to and with us about her sculpture.

in writing you are protected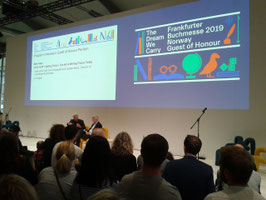 and at the same time you are more vulnerable because you open up. This was one of several sentences of Karl Ove Knausgard during the session "Fighting Fiction. The art of writing fiction today" I'll keep in mind. As an author of non-fiction who nevertheless includes stories in her books and blogs I consent with all my heart. However I think, that the situation in writing fiction and novels is much more challenging.

I admire these writers and often ask myself: how does it work to develop a story and the characters (or the other way round)? Another sentence of Karl Ove may answer one aspect: To write a novel is very easy. It is difficult to come to the point when it is easy. He added: don't give up. Something is gonna to happen.

In non-fiction, especially in scientific writing - so is my experience - it is pretty easy. There is a topic. Certain rules and procedures guide the author. I start to write and of course the first version is followed by several others and the structure of a book I design in the beginning on a mindmap is rarely the same when the book is finished

To work in solitude, slowly, protected and - if it works well - in a flow are aspects in writing I appreciate very much.

Words a one way to express something, visual arts offer other ways.
Wittgenstein's Boat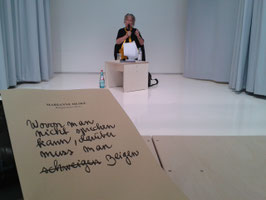 Ludwig Wittgenstein spent several summers in Skjolden and used a wooden rowing boat for pleasure and as means of trafic.

Did your friend know, that it was Wittgenstein's boat? Marianne Heske answered this question with: Was it Wittgenstein's boat? Who knows? Does it matter?

It does not. My sensation of the sculpture changed to a wider range.

Marianne had told us the story how she found the boat respectively how the boat found her. A friend from Skjolden where Ludwig Wittgenstein spent several summers called to tell her, that they just started a big fire with an old boat. She followed the urge to stop this and asked him to pull the boat out of the fire.

A boat is an instrument to travel and of communication. Marianne changed Wittgenstein's sentence "Wovon man nicht sprechen kann, darüber muss man schweigen" to "Wovon man nicht sprechen kann, darüber muss man zeigen". "If you can not talk about something keep silent" becomes "If you can not talk about something show it" - for instance as a sculpture.

More about Marianne Heske and her work on https://www.marianneheske.no/

I hope you have the opportunity to visit the Buchmesse and to see Wittgenstein's Boat.

Christa Weßel - Thursday, 17 October 2019
Blog sections fine arts & architecture and writing & publishing

<  #fbm19 #catchthemoose on the evening before the start of the bookfair   today   #fbm19 outlook on #canadafbm2020 >