let's talk about cooperation and sustainability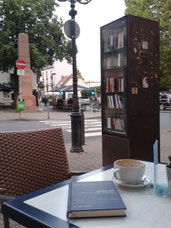 In the tradition of authors and artists like Hemingway, Satre, Stein and many others in Paris and in cities like Vienna, Berlin or Frankfurt am Main we meet at the café to talk about topics that touch us in our daily life: cooperation, sustainability, team work, leadership and much more.
The hashtag #elchefangen (English: #catchthemoose) is related to my handbook serial on organization development: Elche fangen ... with the books Beraten (consulting), Menschen (people), Werkzeuge (tools) and Entdecken (discover). 

Our languages on Tuesday evening: German, English and perhaps others. We'll see.

I wish you a joyful and successful Frankfurter Buchmesse 2019.

The event calendar:
https://www.buchmesse.de/en/service/calendar-of-events

Christa Weßel - Thursday, 08 October 2019

Blog sections organization development (due to the topics of the event) and writing & publishing (due to the fact that the event will take place on the evening before the first day of #fbm19)

< #fbm19 Dialog im Café   today   #fbm19 #catchthemoose on the evening before the start of the bookfair >