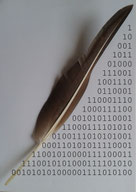 It works: studying, marriage, family and becoming an outstanding mathematician.

The person: not male and white, but an inspiring woman, born in 1918!

Katherine Johnson, mathematician, NASA member, who calculated the trajectories for many NASA crewed missions, mother and wife, died on February 24, 2020.
Thank you, Katherine, for inspiring women in the United States and all over the world.

Christa Weßel - Thursday, 27 Feb 2020