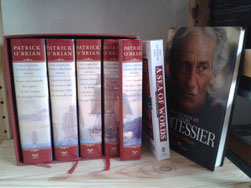 A week ago a sailing colleague did a lot for my boat. At tea we talked about Bernard Moitessier (1925-1994). He is the sailor I like and adore most. His spirit of passing forward is an continuing inspiration. He has written wonderful books, for instance "La Longue Route"(*) and "Tamata"(*). His last soulmate, Veronique Lerebours, made a wonderful book about him after his death(*). She asked friends and companions to tell their story about him and sorted them chronologically. Enjoy!
Our conversation continued with two fictional characters: the seaman Jack Aubrey and the surgeon Steve Maturin. So wonderful how Pat O'Brian tells their story stretching over twenty novels and twenty years(*). I read them again and again, supported by the book "A Sea of words. A lexicon and companion to the complete seafaring tales of Patrick O'Brian"(*). What is next on my list to enter my library is "Harbours and High Seas. An Atlas and Geographical Guide to the Complete Aubrey-Maturin Novels of Patrik O'Brian."(*)
Pontus, bibliophile, offers a fine introduction to the books on his youtube channel(*) and to many other beautiful books. 
This is my love letter to all bibliophiles and book collectors.
This is Pontus Presents: a channel dedicated to capture the beauty of the physical book. I'm exploring a variety of publishers including: The Folio Society, Taschen, The Everyman's Library and other small independent publishers. 
Thank you for keeping the tradition of the true reading experience alive. 
Best regards,
Pontus, bibliophile.
(https://www.youtube.com/@PontusPresents/about - accessed 01 April 2023)
The following sentences describe, what we can learn from the sea
If you want to build a ship,
don't drum up the men to gather wood,
divide the work and give orders.
Instead, teach them to yearn
for the vast and endless sea.
[attributed to Antoine de Saint Exupéry 1900-1944]
A week ago the sailing colleague and I did not build a ship, but we did some repair and I learned a lot. Thank you. 
Christa Weßel - Saturday, 01 April 2023
Some sources
Moitessier B. La Longue Route. Paris, Arthaud 1971. (en: The Long Way. 1973 -- de: Der verschenkte Sieg. 2003.)

Moitessier B. Tamata et l'alliance. Paris, Arthaud 1993. (de: Tamata. 2015)

Lerebours V. Bernard Moitessier au fil des rencontres. Paris, Arthaud 2004. (de: Begegnungen mit Bernard Moitessier. 2007. ISBN 978-3768817462 [nur noch antiquarisch]  -- I could not find an English version).
O'Brian P. The Complete Aubrey/Maturin Novels. ‎ W. W. Norton & Company; 1st edition (October 17, 2004). ISBN 978-0393060119 

King D, Hattendorf JB, Worth Estes J. A Sea of Words, Third Edition: A Lexicon and Companion to the Complete Seafaring Tales of Patrick O'Brian. Holt Paperbacks; 1st edition (October 1, 2000). ISBN ‎978-0805066159

King D, Hattendorf JB. Harbors and High Seas, 3rd Edition : An Atlas and Geographical Guide to the Complete Aubrey-Maturin Novels of Patrick O'Brian. Holt Paperbacks; 3rd edition (October 1, 2000). ISBN  978-0805066142
A reflection on Bernard Moitessier, Conrad Colman and the Vendée Globe: