… happy holidays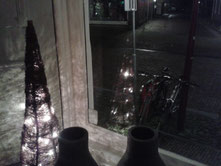 (find the English note below)

Auch ich möchte mich den guten Wünschen anschließen, die allerorten durch die digitalen und analogen Postkästen schwirren. Dies schließt ein, dass ich mich bei Ihnen bedanken möchte, den Lesern, Studierenden, Klienten, Kunden, Kollegen an Hochschulen und in Unternehmen und denen, die als Freiberufler unterwegs sind. Die analogen und digitalen Begegnungen und der Austausch mit Ihnen waren inspirierend und - spätestens am Ende - schön.

Mein ganz besonderer Dank gilt dem Team des Weidenborn Verlags. Blogger-Kollege Rudi Moos und - wie er ihn gerne nennt - der Berater unseres Vertrauens und weitere gute Geister haben auch in diesem Jahr mit viel Geduld, Ausdauer, Humor, guter Laune und Sachverstand zum Gedeihen der Bücher und der Wanderungen der Elche beigetragen.
Besonderes im Jahr 2018
Alles Gute zum Neuen Jahr
Schauen wir also, wie 2019 sein wird. Balance, ein aufmerksames Umgehen miteinander und der Umwelt, digitale Kompetenz, Werte jenseits von Euro und anderen Geldzahlungsmitteln, die Verwirklichung Ihrer Ziele, privat, sozial, politisch und beruflich, Gesundheit …  dies wünsche ich Ihnen. Und wenn Ihnen noch Weiteres einfällt, gerne auch das.


Happy holidays and all the best for 2019
My thanks to you, dear readers, students, colleagues, clients and the Weidenborn Verlag team. I wish you balance, attentive and appreciative handling of yourself, others and the environment, digital competence, values beyond Euros and other currencies, the realization of your private, social, political and professional goals, health …  And if you come up with other ideas, just go for it.

Christa Weßel - 19 Dezember 2018

Blog sections Organization Development (because organizations consist of people) &  2018

< 70th anniversary Freie Universität     today    Learning German with the Moose >