… A  management tool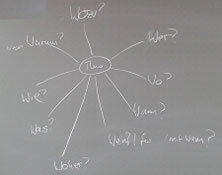 For projects, teams, departments, companies and just for yourself. Maybe you want to plan, perform, control and finish successfully a journey, a research project, a thesis or the birthday party of your grandma.


In German the 8+1W questions are 
Wozu? Ziel.
Warum? Motivation und Anlass.
Was? Inhalte und Aufgaben.
Wer? Rollen und Funktionen.
für Wen? Zielgruppe, Klient, Kunde.
Wie? Methoden.
Wann? Zeitraum und Termine.
Wo? Orte.
und Woher? Daten, Informationen, Theorien, Modelle, Konzepte, Publikationen, Berichte, Dokumentationen, Ansprechpartner.
See the books BERATEN (consulting) and WERKZEUGE (tools) for the use of the 8+1 W and some entries in German here in my blog. Click on the tag "8+1W".
As some colleagues asked for a translation, here it is. Just one of the questions misses the initial "W". Nevertheless there is one: hoW. Or you say "Whow" for How ;)
What for? Objective.
Why? Motivation and cause.
What? Contents and tasks.
Who? Roles and functions.
for Whom? Target group, client, customer.
hoW? Methods.
When? Timescale and appointments.
Where? Places.
and Where from? Data, information, theories, models, concepts, publications, reports, documentations, contact persons.
Put the questions and your answers on post-its on an wall, on an blackboard, a flipchart or a smartboard during your project, discuss it with colleagues and peers and see it grow.

I would appreciate if you tell about your experiences: contact … 

Christa Weßel - Monday, 29 Jul 2019

blog section organization development

< Selbstmanagement … mit den 8+1 W    today    Ein Buch über Organisationsentwicklung >