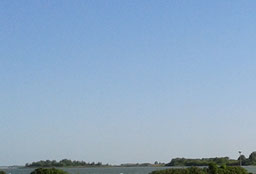 My neighbour said in mid-May: "For years the sky was not so bright and the air so clean and the noise so low as in the weeks since corona started."



Do we have to go into town or to drive to work by car or can we use a bicycle? (consider the effect upon your fitness ;o)

How often do we have to travel far away or are the sea, the lakes, the mountains and the cities in our own country or in neighbour countries as interesting and recreating as transcontinental places?

How often do we have to do weekend trips to other countries just for shopping and sightseeing?

Do we have to do every business trip or are there opportunities like phone calls and video cnferences?

Do we have to renew our clothes every year and as cheap as possible or is a well tailored jackett or trouser of good quality a beautiful alternative?

Do we have to have new toys every month? Like the latest smart phone or notebook?

Does our econony have to be based on cheapest products from other continents (offshore) or should we produce (some of) them nearshore (on our continent) or onshore (in our own country)?
Just some examples. You will find more.

And perhaps the following part of "Fair Play" about the "Diffusion of Change" excites some ideas how to spread change in people's attitude to environment, travel and consumption.

Christa Weßel - Thursday, 04 Jun 2020