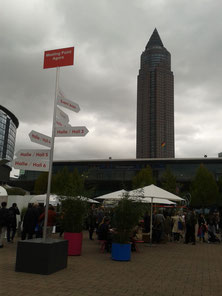 Keep distance. Of course this is also the case for #fbm20 during Corona, the COVID-19-pandemia. The crew of the publishing house Weidenborn Verlag welcomes and takes the opportunity to say hello as digital exhibitor. My blogger colleague Rudi Moos reports in German. Like him I am very pleased, that Canada will be the guest of honour during #fbm20 _and_ #fbm21.
is the access to the wonderful program that Canada offers this year.
I hope, that in 2021 the situation will allow authors, artists and all the people, it needs to make and distribute books, and of course the readers will be able to connect personally in Frankfurt on #fbm21. Beside this I wish you inspiring digital and perhaps some personal contacts during #fbm20 and hope to meet you next spring on the bookfair in Leipzig and in autumn'21 in Frankfurt.
My thanks go to the people who made and make #fbm20 digital possible.
Christa Weßel - Monday, 12 Oct 2020
(The picture was taken during the #fbm19 - blog 18 Oct 2020)
blog sections together and writing & publishing
< Frischer Wind   today  Schulen, Klimaanlagen und andere Impressionen >