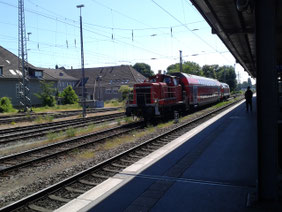 In a train from Schleswig to Hamburg, Germany: "hey guys, can we share the seats?" A young woman, member of a travel group. "Of course." And this was the start of an interesting and pleasant chat, lasting about one hour.
The group: young people from Maryland who explore some countries in Europe in about three weeks. A somewhat longer and relaxed version of "see Europe in ten days". 
So we shared: our stories about our occupations and work, about our travels, about sailing - just do it! - and about favourite authors - for instance Anne Tyler and Siri Hustvedt, about books, about the idea to share books as open access e-books and to sell them in print. The currency: 2 pizzas and 2 beer can match a good book.
And we shared local knowledge: "Where would you recommend to go in Germany?" - "Apart from the usual cities like Berlin, Hamburg, Dresden, Munich, Cologne?" - "Yes - and in the countryside. We would like to learn about your personal preferences." - "Oh, that is easy." 
_ Rostock and Stralsund and the Mecklenburger Seenplatte
_ definitely: Leipzig, the city of Johann Sebastian Bach; old and new, a wonderful university
_ Frankfurt am Main: 160 nations, museums, theatres, clubs, music, and "our" skyline; purchase a three day ticket for the "Museumsufer". I think it is still available. And visit Bornheim, the Bergerstraße - Bogenhuasen is crowded - with tourists ;o)
And in Hamburg where we arrived at this point of the chat: Sankt Georg. "See there, just east of the Binnen-Alster." Farewell on the  platform. "Hope to see you again." - "Yes, perhaps in Maryland and in Main ... sailing."
Thank you, guys, for sharing this and "Social Informatics Experience. Learning about people and computers" https://d-nb.info/1291579583/34
Enjoy
Christa Weßel - Sunday, 18 June 2023
Blog sections together and writing & publishing
< Vibes in Bremen    today    Andere arbeiten lassen: ein weiteres open access ebook >