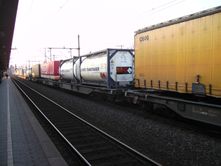 If companies and other organizations follow a strategy that puts sustainability into effect they are able to
 
… produce, offer and sell their products economically successful,
… accept responsibility for both their staff and society - locally, regionally and world wide,
… act ecologically reasonable.

Peter Senge describes this approach as "product people planet" (ppp) in his book The fifth discipline (Blog 19 Nov 2011 - and several others, click on the tag "product people planet").

To take planet and people into account can support economical success. Using fewer resources for the production and selling processes reduces costs. Healthy and content staff members contribute more willingly. Anyway - to treat people with respect is a - is no - question of human rights.

How can decision makers in the econonomic systems and politicians put principles into action? The blog entry

Sustainability and Business (16 Mar 2019)

describes the historical background, examples, the relation to human rights and some approaches.

Signs of respect for employees and freelancers are among others fair salaries and fair specification of social security contributions. The following parts of this mini-serial Fair Play deal with these topics.

Christa Weßel - Thursday, 04 Jun 2020
References
Senge PM. The Fifth Discipline. The art and practice of the learning organization. Revised edition. London, Doubleday 2006. (1st edition 1990)