(find the English note below)
Frohes Fest und alles Gute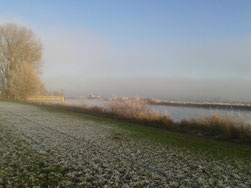 Der Frachter, der hier die Hunte hinabfährt, heißt "Doctor Strange", Heimathafen St. John's. An der Flagge war gut zu erkennen, siehe unten auf dem anderen Foto: es ist das St. John's, das die Hauptstadt von Antigua und Barbuda ist. Ostkaribik. Zu einem Paar, das ebenfalls an der Hunte unterwegs war, meinte ich: "Wie schön, die sollten uns mitnehmen. Da ist es warm." Die Frau: "Warum? Hier ist es doch auch sehr schön." Ja, das stimmt.
strange hat im Englischen sehr viele Bedeutungen, zum Beispiel außergewöhnlich, seltsam, merkwürdig, fremd, eigenartig und auch komisch, skurril, ulkig plus unerfahren und vieles mehr, siehe dict.org 
Es passt zur ersten schweren Pandemie seit etwas mehr als hundert Jahren. 1918/1919 war es die Spanische Grippe. Und nun kündigt sich die fünfte Welle in der COVID-19-Pandemie an und das dritte Jahr beginnt. strange: das Unerfahrene, Fremde, Ungewohnte, Merkwürdige und auch das Skurrile, Komische, Ulkige. Sie haben sicher auch schon Lustiges, Berührendes und/oder Schönes durch die Pandemie erlebt. Bei mir war es zum Beispiel im Sommer 2020 ein Bootsnachbar: "Ich komm nicht an Bord, ich komm aus Bremen." Dort war gerade die Zahl der Neuinfektionen mit dem COVID-19-Virus sprunghaft angestiegen. Oder ein Nachbar, der in diesem Herbst meinte: "Dann sind wir die Kellergeister", weil das spontane Plaudern im Keller das gemeinsamen Kaffeetrinken abgelöst hatte.  
Betonen möchte ich den Ernst der Lage: es wird noch Jahre dauern. Es geht weiterhin, auch im dritten Jahr, 2022, um das Leben mit der Pandemie und den Kampf gegen Neuinfektionen. Darum: 
Impfen gehen und AHA-L. 
& exzellent: Prof. Dr. Claudia Daubenberger: Omikron & die globale Perspektive auf die Pandemie 
Wissenschaftskommunikation vom Feinsten
AHA-L: Regeln, die uns sowieso gut tun. 
Apropos gut: ich wünsche Ihnen und Ihren Lieben schöne Festtage und alles Gute für das Neue Jahr. 
Christa Weßel - Mittwoch, 22 Dez 2021
Happy Holidays and all the Best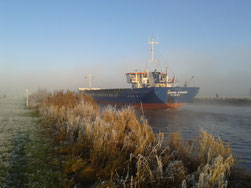 The cargo ship's "Doctor Strange" home port is St. John's, the capital of Antigua and Barbuda, Caribbean. The flag confirmed it. "How beautiful, they should give us a lift. There it's warm." The woman of the couple I met on the Hunte riverside said: "Why? It's also beautiful here." She is right.
"strange" has several meanings in the sense of "surprising, especially in a way that is difficult to understand" and also "not familiar because you have not been there before or met the person before" plus for instance "used to show that 'funny' is being used with the meaning of 'strange'" (Oxford Learner's Dictionaries).
It fits the experiences during the first severe pandemic since more than one hundred years. 1918/1919 it was the  "Spanish" influenza pandemic. And now the third year of the COVID19 pandemic starts. Strange: the surprise, the difficulty to understand and sometimes it is weird and funny. 
Of course it is no joke. It's serious. We have to continue to live with the COVID19 pandemic and to fight new infections:
Get vaccinated
and wear face-masks, wash your hands and keep distance physically and air the rooms regularly.
These are measures and rules that are good for us anyway.
Apropos good: I wish you and you loved ones wonderful holidays, for instance celebrating Chrismas, and all the best for the New Year.
Christa Weßel - Wednesday, 22 Dez 2021