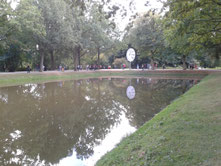 Such wonderful news. 
Managing Editor: "thank you for your article. The current version was accepted.
I have only one issue - can we change the title to "Social Informatics Experience: A case study of learning and teaching sociological basics in a technical context"? It can be a problem to use dots in the title for indexation in DB and future citations."
Author: "wonderful, great, the best present for x-mas I can imagine this year.
Thank all of you! Title: yes, sure, adapt it as suggested." 
The reviewers and the people at Acta Informatica Pragensia were fast. Five days after the submission of the third version they accepted the paper for publication in the beginning of 2022. The proofreading will take its time. Up to then enjoy the submitted version 3  ... SIE 15 Dec 2021  
Christa Weßel - Monday, 20 Dec 2021
[CW 25 Jan 2022: article is published; thus I erased the link to the submitted version 3]
Weßel, C. (2021). Social Informatics Experience: A Case Study on Learning and Teaching Sociological Basics in a Technical Context. Acta Informatica Pragensia, 10(3), 211–235. https://doi.org/10.18267/j.aip.170
blog sections social informatics and writing & publishing
< Mein Name ist Bond   this entry   Frohes Fest and all the best >