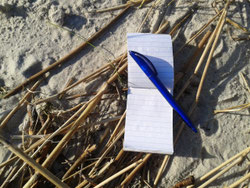 Writing is reflection is learning. This fits to a diary, a blog and a book, a thesis or an article, may it be a newspaper or a journal. A specific case is to write a report on a study for a scientific journal, a scientific article. 
Let us have a look on this writing and learning process using three questions, which students answer in my seminars on their proofs of performance during the final review. As example serves my proof of performance as scientist and author: the article "Social Informatics Experience: A Case Study on Learning and Teaching Sociological Basics in a Technical Context", abbreviated "SIE" (in German "sie" means "she", imho a nice side effect). 
Questions for the reflection
In the paper SIE I describe it as follows:
The students deliver their proofs of performance two weeks ahead of the last workshop via the e-learning platform. The teacher annotates the students' files and delivers a review for each a few days ahead of the final workshop. Thus, the group can perform a summary reflection and evaluation on the last day of the seminar. Three questions build the basis:
What is your proof of performance about?
What were your experiences during your work on it, as a group and personally?
The teacher's reviews: Where do you agree and where not? Why? Do you have further questions? 
Finally the teacher sums up the learning and teaching and the work together and gives an outlook on future seminars. Then it is time for the social part of the adjourning period in the process of group dynamics: coffee and cake. The students' joint work on research projects and other tasks fosters the learning effects. The tools of blended learning support the work between the face-to-face units. 
I use these three questions with minor adaptations for the reflection on SIE: "The article", "Timeline and colleagues", "Reviewers and managing editor". 
The article
Social Informatics Experience: A Case Study on Learning and Teaching Sociological Basics in a Technical Context.
Abstract
To be able to play an active role in the design, creation and development of a networked society, students, scholars and practitioners need basic knowledge in social informatics. Students at a university of applied sciences attended a one-term seminar that consisted of eight two-day workshops. The students learned and used theories, concepts and methods of social informatics (SI), focusing on the sociological part of SI. The learning and teaching approach is grounded in competency-based learning. It enables students to explore a certain field. This is implemented by means of organization development, project-based learning, agile learning and teaching plus blended learning. It empowers teachers and students to work together efficiently, effectively and with joy. To learn how and why this approach worked, an embedded case study investigated the design, implementation and evaluation of the workshop series. Finally, the paper describes impediments to the communication and understanding of the term and the field of social informatics and sketches ideas how to deal with it concerning study programmes and the value social informatics can contribute to challenges like a pandemic. 
Keywords
Social informatics, socio-informatics, project-based learning, continued multidisciplinary project-based learning (CM-PBL), competency-based learning (CBL), agile learning, blended learning, organization development, case study 
Note: Due to the request of AIP I changed the title, see blog 20 Dec 2021.
Timeline and colleagues
The first sketch is from February 2021, the actual work started in May 2021 and the final version to be published was completed on 19 Jan 2022. 
Feb 2021: The managing editor asks for a paper on teaching SI. I sent a draft and he suggested to give it a try.
26 Mar 2021: a colleague, Nastassia, agrees to read and comment the early drafts of the paper.
May and Jun 2021: literature research and a book review in the blog 15 Jun 2021. 
Jul 2021: writing the paper in several versions (v0.1, v0.2, ...). Nastassia comments on two drafts, giving very helpful insights.
28 Jul 2021: submission of SIE v1 (blog 01 Aug 2021)
06 Sep 2021: two reviews arrive. Reviewer_1 recommended major revision, reviewer_2 recommended minor revisions - both offered very useful comments and suggestions. As I hoped, I learned a lot (blog 01 Oct 2021).
Sep 2021: working on version 2. As the reviews offered so much, I could save Nastassia further labour. 
01 Oct 2021: submission of SIE v2 (blog 01 Oct 2021) together with a list of changes or a rebuttal against each point which the reviewers raised. The list was a request of the managing editor.
03 Nov 2021: two reviews arrive. Reviewer_1 again recommended major revision. I will have a closer look on it below. And, hurray, reviewer_2 recommended acceptance and suggested useful steps to shape the paper. 
Dec 2021: working on version 3. 
15 Dec 2021: submission of SIE v3 (blog 16 Dec 2021) together with a description of the changes, naming each section (yes/no) and if, yes, with some details. 
20 Dec 2021: paper accepted for publication in AIP (blog 20 Dec 2021); the managing editor gives notice that a proofreading will be done and that I will have to incorporate the findings in the paper and to submit the final version.
13 Jan 2022: proofread arrives, very good work. I learned a lot how to improve my English. 
19 Jan 2022: final version via e-mail to the managing editor with a big "Thank you all" and some remarks, on changes I did not follow and some extra changes. 
so far overall about two-hundred hours, including writing, literature research, blog entries and communication with peers, colleagues and AIP.
Working on a book or an article follows a certain routine (Refugium). Essential is the feedback of colleagues. The work on the article had some predecessors. Colleagues gave feedback to former blog-entries, articles and books on the topics social informatics and didactic. The cooperation with a certain colleague has been something special. Since several years Nastassia gives profound and inspiring feedback to my work. After three books (andere arbeiten lassen, Sozioinformatik, Refugium) she also agreed to read and comment SIE. 
Reviewers and managing editor
First of all: The submission process on the website of AIP was comfortable and the communication of the managing editor was and is excellent: reliable, fast, respectful, helpful, encouraging and with a fine sense of humour. 
Reviewers of a scientific journal are colleagues, you do not know. Colleague is meant as "working in the same or a related field". They stay anonymous. You communicate with them via the editor. The reviewers have mostly a small advantage: they know who the author is. If there is any personal and/or professional relationship a reviewer reclines to take over the task of reviewing. Working as author with these anonymous reviewers is a very good opportunity to learn a lot and to develop your skills: professionally in your field, methodologically in scientific work and writing plus socially. To deal with reviewers who respect your work and you as person is easy, but reviewers can let you know by the style of their comments that they do not esteem your work or respect you. And from these reviewers you learn most in the area of social skills. 
For SIE I followed the route I recommend to students during their work on a thesis: follow the rules of good scientific writing, listen to the suggestions of teachers, peers and reviewers _and_ stick to your work, if you are sure it is good.
Example: if a person suggests to revise and reorganise your work overall, when it is nearly done, don't do it. If you followed the rules of scientific writing your paper is okay. And if someone dives into your text and changes it, "just steer clear of the rocks", in other words: ignore it. Instead listen to the people who give profound advice. 
Happy ending
... nearly. The journal accepted SIE, the managing editor got the version to be published - "I would appreciate, if you would inform me, after the paper is published. Then I can list and refer to it in my list of publications" (from my e-mail to the editor) - and "We will be in touch." (his answer).
I'll  keep you informed about the publication process and result.
Christa Weßel - Friday, 21 Jan 2022
[CW 24 Jan 2022: added workload in section "timeline and colleagues"]
[CW 25 Jan 2022: article is published]
Weßel, C. (2021). Social Informatics Experience: A Case Study on Learning and Teaching Sociological Basics in a Technical Context. Acta Informatica Pragensia, 10(3), 211–235. https://doi.org/10.18267/j.aip.170
blog sections writing & publishing and social informatics
< Pandemie ... Nachgedacht ...    today   Social Informatics Experience ... article published >