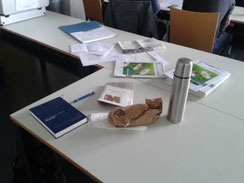 xmas time with so many and so different gifts, amongst them books and inspirations. Thank you - you know, whom I mean - for the idea to blog the core of my application also in English (see the German version in blog 21 Dec 2022).
[Monday, 03 July 2023]
See also  CW in computer science (blog entry with a cv focusing on IT)
The back-story
In May 2019 I started a sabbatical as visiting lecturer at Baden-Wuerttemberg Cooperative State University in Mannheim. It is a college with a dual education approach. The students' terms alter with working periods in a company. The students have training contracts with the company. I had started to teach there in 2010. The planned reentry in spring 2020 was cancelled due to private matters, including a move to Northern Germany, and the pandemic. I went on stand-by in teaching. I focused on writing (see books) and coaching (see tosaam). Now I want to resume teaching. I love to teach, to cooperate with students, teaching colleagues and the management staff of higher education institutions. This blog-entry is the blueprint for my applications. Of course I will get in touch with people at colleges and universities. 
The application consists of
Cover letter
[It starts with reference to the contact with staff members of the particular institution and the fields and subjects, it proceeds with my background ...]
Since 2002 I am teaching management, informatics, focusing on social informatics, and scientific methods. My approach is learner centered and uses amongst others competency-based learning (CBL), project-based learning, agile learning, and blended learning. I developed some teaching methods, conducted several studies in didactics and published papers and subject books. 
My seminars are shaped as workshops that are interspersed throughout the term. They last half a day, one day or two days each.  The students and I work with the concept of blended learning. We combine in-person-sessions, e-learning and self-study. From day one on the students work in small groups of one or two or three on their proofs of performance. These are small students' research projects, portfolios and - in scientific methods - the draft of a study and the proposal of a thesis. The paper Social Informatics Experience (2021) describes in detail the approach.   
So far I have taught at RWTH Aachen (health informatics), Johannes Gutenberg-Universität Mainz (occupational and social medicine), Berliner Hochschule für Technik/Berlin University of Applied Sciences and Technology (media informatics, master: human factors in informatics), Baden-Wuerttemberg Cooperative State University Mannheim (business informatics, bachelor: consulting, change management, scientific methods), Hochschule Fulda, university of applied sciences (public health, master: strategic management in health care) and Hochschule Furtwangen, university of applied sciences (IT product management, bachelor: social informatics).
My cooperation with students, colleagues and management staff is characterized by mutual esteem, a sense of humour and the focus on high-quality learning and teaching.
Looking forward to hearing from you, 
[...]
Attachment
Next steps
I have to approach colleagues from my network and new contacts in institutions of higher education, academies et cetera. It would be wonderful to restart teaching in 2023 and to cooperate with students, teaching colleagues and the management staff of higher education institutions. 
If you have ideas how to support my applications I would be glad to hear from you, either via mail@christa-wessel.de or by phone +491751610951. 
Christa Weßel - Thursday, 29 December 2022
Reading material
If you have to write such a letter, a resume or other letters, find below some in my view inspiring websites (all accessed on 29 Dec 2022)
The above mentioned paper on learning and teaching
Weßel C. Social Informatics Experience: A Case Study on Learning and Teaching Sociological Basics in a Technical Context. Acta Informatica Pragensia 2021; 10(3): 211–235. - https://doi.org/10.18267/j.aip.170
The German version of this entry: blog 21 Dez 2022 Bewerbung als Lehrbeauftragte