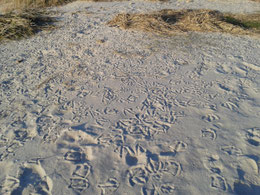 Santa was already here in Oldenburg bringing some gifts of colleagues, readers and clients. This induced the idea to collect these treasures. Why? Often I work alone, as author and also as coach. Of course there are clients and colleagues but I am a self-employed person, a one-woman-enterprise. We all need feedback. Positive feedback is supportive and strengthening. Negative feedback can induce learning, improvement and resilience.
The following is a collection of positive feedback. It is a resource I can rely on once and a while. Furthermore it can offer material for your decision, if you consider to work together with me as coach, consultant, lecturer, teacher and/or author. I will mark updates in the text and at the end of the text. 
Coaching
You can find the description of my work in ... ccs 
creative director digital (m), 42 y (2018)
Dr. Christa Weßel accompanied and supported me during my professional realignment. Fostered by her attentive and purposeful requesting and roundups and our intense dialogue I realized in short order, that the careers in creative business and at universities complement each other perfectly and showed me, how I can follow both ways. The dialogues were open and led - based upon profound theories and convenient and applicatory solutions - rapidly to recognizable results. Thus I can entirely recommend Dr. Christa Weßel as coach. 
editorial page editor (m), 37 y (2014)
Your coaching concept is analytic, integrative and always goal oriented and structured. This ist fascinating and I made rapid progresses. Your style is open minded, empathic and supporting. I felt in good hands.
manager it company (m), 45 y (2010)
Dr. Weßel's interview technique is empathic and attentive. By this we could reflect different motives and aspects in a continued dialogue. The crucial factor of success was, that Dr. Weßel did not forestall important discussions with pre-built theoretical models of explanation. In fact her explanations and literature references after gaining some insight fostered to explore and consolidate the topics in depth. By this I reached coherent conclusions and approaches for change and development. These meanwhile proved to be helpful and applicable.
Higher education
Seminars, workshops, talks and - so wonderful - coaching people during their thesis. Find the description of my work on tosaam 
bachelor student IT product management (m), 21 y (2017)
Now we look on the closing words of the portfolio [in social informatics]. They show my personal conclusion, describing my reflection on the semester overall, during which I attended the workshops in the lectures "Social Nets" and "Informatics and Society". I liked the workshops overall although I'm not a person who likes to interact and to occupy centre stage. Alas I could not avoid this as our group consisted of just five students and the teacher. Overall this evolved as positive, because the workshops were everything but not a boring lesson and indeed I had fun. The continued repetition of the subject matter lingered in the memory. Beside this I reflected intensely on my studies in IT product management and its parts. The flexible working style, for instance the organization of breaks and lessons was relaxing and precious. In the beginning my own learning targets were indifferent and not well defined. During the semester I was able to shape and to reach them. Beside this the inclusion of and work on topics apart from social informatics stemming from other lectures were excellent. For instance we looked on quality management, feedback and presentations techniques. Summarizing I can say with good conscience that I have performed successfully the lectures "Social Nets" and "Informatics and Society".
master student public health (m), 25 y (2013)
Hi Christa, enclosed you'll find my master thesis. The attachments are available via the following link: [...] I thank you for the wonderful support and supervision, it was exactly what I envisaged! Now I will entrust myself in the arms of colleague Morpheus.
master student public health (f), 35 y (2013)
Dear Christa, today I delivered my thesis. [...] I thank you for your intensive support and supervision inspite of your long days. I hope we keep in touch. [...] Thank you so much.
bachelor student business informatics (f), 23 y (2013)
Your teaching in the seminar consulting fostered both my professional and my personal growth. This took also and intensively place during my bachelor thesis. I thank your for this experience and especially for insights in social informatics.
Blog, articles & books
Blog
Santa's visit and an e-mail induced to start this collection and I remembered some older e-mails (my translation from German)
Referring to Einladung zum Fotografieren
Dr. Kathleen Löwe, Niedersächsische Landesmuseen Oldenburg, 09 Jan 2023: 
Many thanks for the beautiful blog entry about the exhibition "Grand Boulevards" and about our house!
Referring to Frohes Fest ... Happy Holidays
manager socio-pedagogical organization (m), 63 y, 24 Dec 2022:
Your blog - your homepage is very trim, tidy, it is easy to get one's bearings...well-conceived...
Referring to Souverain
Tour guide (f) in Jever, about 65 y, 07 Oct 2022:
Your blog is something special. In my view the historical jumps and comparisons of the named rulers are very suspenseful and well-made. 
Referring to Beuys reloaded
Dr. Barbara Strieder, Stiftung Museum Schloss Moyland, 26 Mai 2021: 
Thank you very much indeed. I am very pleased by your text and your feedback.
Julia Niggemann M.A., Stiftung Museum Schloss Moyland, 24 Mai 2021: 
Many thanks for your fantastic article about our exhibition. The article wets one's appetite for a visit at our house und thus we are overjoyed.
Articles
Books
The publishing house Weidenborn Verlag presents reviews and comments of readers on my books in German. Some of the comments I translated into English. They refer to the predecessors of the book serial Catch the moose ... basics in consulting for consultants and managers
artist (f), 72 y (2015)
Although it's not my professional area, "Basics in Consulting" seems to be a very precious book. Those who want to become acquainted with the area, find basic material. Those who are working for quite some time as consultants, can extend their knowledge. Your style comes across and is friendly and to the point, with fine and convenient examples. [...] The basis of your work is mutual respect. Every single person is of relevance for the whole, be it a company or an institute. [...] You ought to know that I did not read the whole book. It is not my professional area, but what I read, I read with pleasure. I enjoyed all the human aspects and I discovered: always bear in mind "The moose on the table".
scientist and lecturer in computer sciences and medical informatics at a university (m), 50 y (2015)
Especially I appreciate the way how you - in a clear and comprehensible language and in short texts [Catch the Moose] - describe aspects to the point, where elsewhere on a big amount of paper and e-paper plenty of illegible stuff is presented.
bachelor student business informatics (f), 23 y (2016)
In my department I took over the task to explore the concept of the department and to develop recommendations how to improve the performance of the department. Thus I shall act as a consultant and organize workshops for my team leader. Your book [Basics in Consulting] helps a lot. Furthermore I want to tell you that I have a great regard for your seminar [Consulting] and that I'm looking forward to the second part next term.
manager medical device manufacturer (m), 52 J (2013)
Your book [Basics in Consulting] tells often about reflection and indeed it was inspiring - so much, that I in all likelihood will accept an offer to change inside my company on a totally new management position in a totally different business domain. Your book has meanwhile been peppered with flags and comments - something I do only in good books about management.
Thank you, who give comments and feedback on my work. Who show me what and how I can improve. And who show me, what you appreciate.
Christa Weßel - Saturday, 24 December 2022
[supplemented on 09 Jan 2023]
Blogrubrik Organization Development ... okay, a one-woman-organization
< Feedback (German version)     this entry    Impuls Coaching >